---
Added safety for greater peace of mind
Biker visibility is crucial for on-the-road safety, whether it's day or night. Opt for our Folding Tail Light Bike Fender for a compact light-up solution that can make your presence more notable, wherever you go, rain or shine.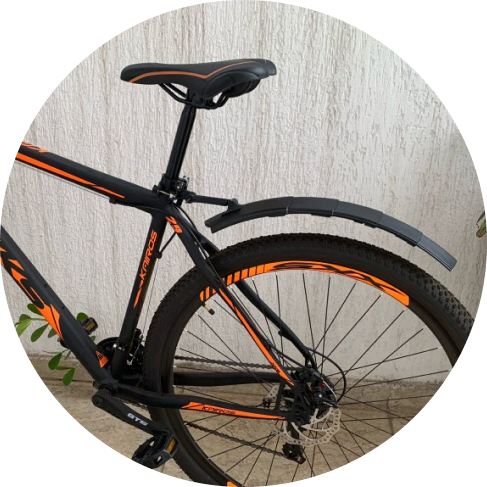 Safety from the front + back
Your purchase includes a front and rear fender for front- and back-visibility. When fully extended, the front fender measures 13.6 x 2.7 in (34.5 x 7 cm) while the rear fender measures 19.7 x 2.7 in (50 x 7 cm). Measurements are in length by width.
Guarded from splashes + more
A built-in splash guard made of flexible rubber protects the light from mud and water on the streets and sidewalks. The splash guard also acts as the collapsible cover for the bike light.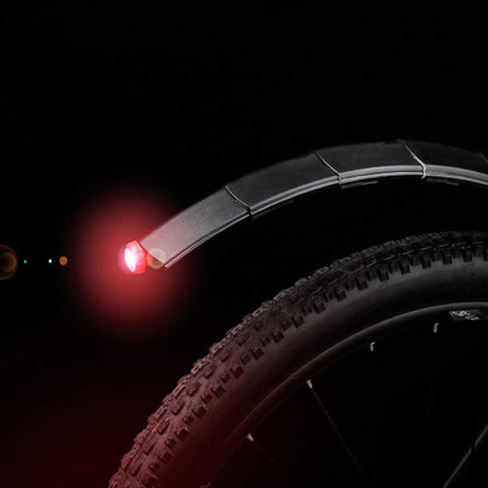 Get set up with minimal work
Assembly and installation is relatively easy, with step-by-step instructions included. Each fender is adjustable via an expansion clasp that secures to your bike above each tire. Your order comes with a hex wrench and all the required bolts and screws.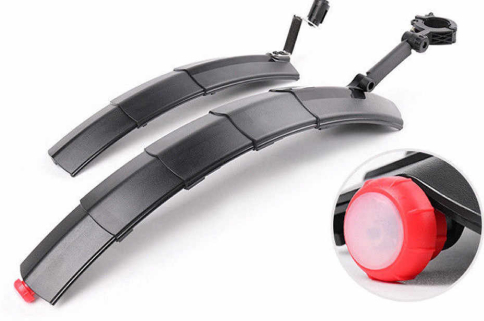 Wide compatibility
Our fenders work on 24- and 26-inch mountain bikes, road bikes, and bicycles.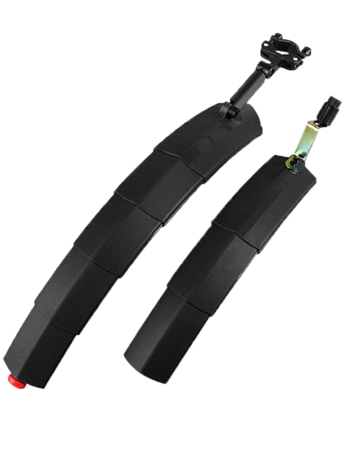 A biker's dream
From cycling enthusiasts to casual riders, give the gift of added safety, protection, and biker visibility with this Folding Tail Light Bike Fender.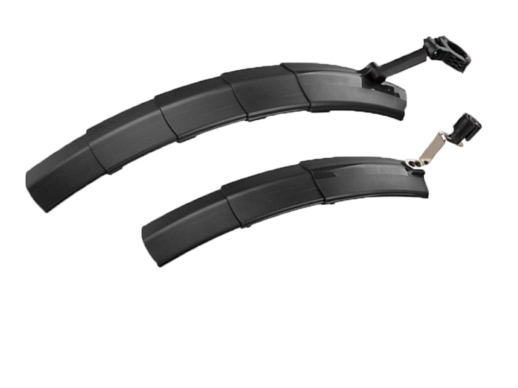 Thank you for help! It's amazing!

The only complaint I have is that one of the plastic clips broke. But I guess, just don't pull on the clip too far or hard. otherwise all is well.

New is something that anyonewould buy instantly. I did, and I did it with no hesitation :-) I commute on my mountain bike daily, regardless of the weather, for 10 or so miles. These stood up to that and the abuse when I went on a mountain trail for a good four months. For 30 or so bucks, it's one hell of a deal. I still got a different light though, the one that comes seemed kinda weak

Probably the lowest price for fenders, at least when it's on sale

bought by a friend's reccommendation, it's just like i expected!

This thing is awesome. I commute on my bike and while I don't ride in the rain on my way to work, I have to ride in the rain to go home occasionally. The water coming up from my front tire hits the frame, splits and sprays directly into the big vents on the top of my cycle shoes. Fits perfect on my carbon aero forks with cable guide mounted on the fork. The fender worked good for me on a foggy SF day but I have not used it on a heavy rain day yet. highly recommended!!!

Reasonably priced and well-made bike fenders.

recommend this bike fender! good price and quality!

a great one. highly recommend

This fender has turned out to be a real bargain. I bought it to use on a Trek Domane 5.2 that I use as a touring bike. I didn't want to go to full fenders, and this looked promising. I have used it in heavy rains and found it to provide good coverage. Some have complained that the lack of being a full fender causes water to spray up from the front of the wheel, but I have not experienced this at all. It may be the type of tire tread, or that I have a handlebar bag that blocks it. Even though it is easily removable, it stays put, and does not flap in the wind either. I couldn't be more happy with my purchase decision

Everything is alright. Thank you! I put these on 3 different mountain bikes--20" and 24" kids bikes and a 26" mens bike--all different brands. They look great on all of them. The only one they won't work for is my husband's old Raleigh because of the way the frame is designed.

wonderful very well made. I absolutely love the telescopic fender design...quality is fair for the price. However, the product comes with no helpful installation guide and you have to use your creativity to install it on your bike with the two ziplock bags of seemingly random, nuts and bolts. The tail light was an added plus , however the tab connecting the light to the fender broke off while installing it, so I had to use transparent tape to temporarily stick it back.

Even if it's not the cheapest bike fender online, I recommend buying anyway. The quality is top tier.

Everything Is okay and came quickly

Everything came quickly, thank you, I am really happy.

The fenders are exactly what I was looking for, nit addition and a bit of extra protection for my weekend trips.

bike fender matches the product description in full

Very satisfied. Recommend this shop.

The high ratings and positive reviews for this bike light set are well deserved. Maybe you can find stuff for your bike that cost less. I seriously doubt you can get better value, though.

super quality! thanks for foldable bike fender!

everything is good! Thank you.

Got my fender just as described, durable and strong

I have noticed since putting them on that oncoming cars do notice them and start moving over a little earlier, so it's the added safety

Recommend!! I bought this to fit to my Cannondale Synapse before a big ride (the previous front mudguard had broken - the rear was still ok. It took about a minute to fit and did not require any adjustment of the bolts. During the ride it stayed secure over some fairly varied terrain and kept alot of water off me. It is not as good as a proper front guard as spray can still come up in front of the fork and be blown back at you but this is something I can accept as the product is so easy to fit.

Very sturdy. Both front and the back fender are ok.

You don't need to spend a lot to get great visibility. These are easy-to-use rechargeable lights that will fit securely to your bike.

My only regret is not buying 2 packs for mt both bikes lol

product excellent. quality is good. Thank you very much store, recommend. I use the wheel protector on the road bike and there it fits perfectly. The rain cover is good, but you must be aware that a normal long mudguard provides more protection, especially in the front area. But the best thing is really the quick assembly and disassembly, it really can't be easier without any tools or mounts on the bike.

Tthis bicycle fender fits my bike very well. You know, without the fender, your clothes will suffer. I don't think few people are willing to waste time cleaning the stains on the clothes.

looks exactly how it described, good quality, will buy order from here again. I bought to use with 35mm gravel tyres. Sits well on the fork, does not rattle and has plenty of adjustment. It's as massive improvement over the frame mounted splatter guard I used previously.

better than i expected. awesome! Are all clean af because of this ass saver. For a very affordable price, you get mud and dirt protection as well as the fastest looking bike your homies have ever seen. No more lines of dirt that run up your back from your crack. This is an investment AND a clout move.

Nice design with chrome-like finish - added some extra style to my bike

Excellent water resistance: One evening I was caught in a sudden, unexpected heavy downpour while riding my bike. The lights never even flickered, and I've found absolutely no evidence of rust or corrosion since then. (I live in Florida, very close to the saltwater.)

this is a perfect choice for such a low price. Awesome fender set! The shipped item inside the box had quite a dust on it but I really don't mind since it will get dirty once installed. Initially thought that I would need to clamp it on the seatpost but I preferred to clamp it below that, on the bike frame instead. Lo and behold, when I did try fitting it, it just fit perfectly.

This store has the best managing - they answer emails super quick

Easy attachment to the bike: No tools required. You can literally install each light in 5 seconds, either on the handlebars or the seat post.

I was really impressed with how far down the road the lights illuminates!

I've been using these lights for two months now. At least 5 evenings a week I take a bike ride just before sunset and I often come home in the dark. And with these fenders I feel confident that not only will I see what's ahead of me but - maybe more important - vehicles and pedestrians will see me better.

I can't think of one bad thing with my new fender. Just a good addition for my bike.

Just rode my bike from Florida to California with these and they worked very well. Just note, these fenders are not for "night riding" ie if you're planning to ride extensively at night, you should get lights with more power.

Love these. I bought them for my electric skateboard and they fit to the trucks really well. I'm very satisfied.

They are a little smaller than I expected them to be, both of them are about the size of a flattened golf ball, but they don't need to be any bigger. The straps stay tight and the taillight lights up a large enough area to see where you're going in the dark. They also really are water-resistant. Very happy with these fenders

For the price, these are great and I would definitely buy them again. They make our bikes more visible from a distance both day and night.