---
Get a grip
(On better workouts)
Struggle no more with grip and form when you hit the gym with our Gym Maniac Brown Camo GM Weightlifting Wrist Wraps. Feel better control and durability during lifts with the high-precision stitching and reinforced thumb loops. Our straps are also adjustable so you can get a tight, secure hold on bars and weights for added safety.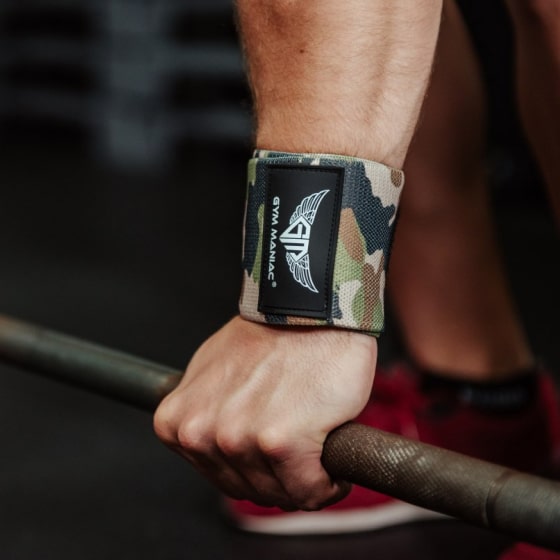 Improved feel + grip you can feel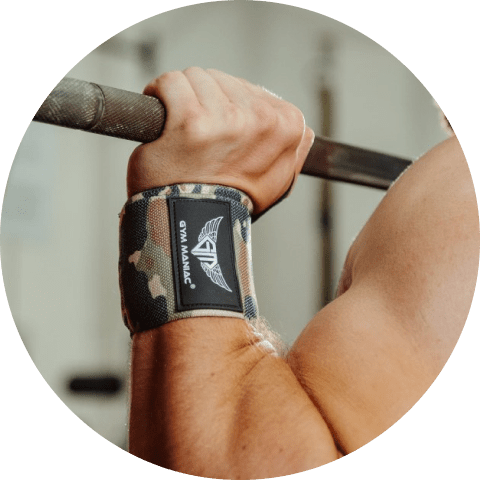 Lift more, longer
Because with our lifting straps, you'll be holding barbells and weights properly, meaning you'll be able to workout in correct form, reducing fatigue that usually comes from improper form.
Built to uphold
Unlike traditional weight gloves or wrist straps, Gym Maniac's use elastic fabric and strong velcro to deliver support that won't split or fray easily.
Let's grow stronger together
Gym Maniac was created to provide anyone heading into a gym the support and confidence they need to get healthier and more fit. Discover our line of lifting belts, straps, compression wraps, and more today for a better workout tomorrow.
Very comfortable and durable. Really helps with the weights. Love it.

Great support. I use them regularly and they do the job. Goodbye wrist pain after heavy lifts.

Love these wrist wraps. Very supportive on the wrist and have velcro for stability.

Good gloves for gym activities. Be careful not to accidentally pull on the wrong strap (the part of the base and the actual base are in the same area) or you may make them unusable, if you pull with enough force.

Really like the comfort and ease of use when I'm lifting

Excellent wraps, high quality! I've been looking to replace my old wraps and these are definitely what I wanted: high quality, sturdy and feel good.

These are comfortable, even on my small wrists. They're well made and keep my wrists supported.

I have never used wraps before but these were recommended by a friend. I have to say as soon as you wrap them your wrist feels stronger than ever. Helped get bigger lifts without pain. Excellent!

These wrist straps are great. The material is amazing and they are not too bulky or heavy and they are aesthetically appealing as well. They are a great product and awesome to buy for the price.

Really good product. After I got injured I thought it was going to take a while to really get to the level I was. It wasn't the case. This wrist support helps a lot. I feel safe lifting weights as before. Thank you guys for providing such a good product

First time buying these wrist wraps and first impression was the quality of the product plus beautiful design. They feel very comfortable and easy to adjust. I highly recommend them if you would like to perform better and avoid any injuries. I have used other wrist wraps but these are the best ones.