---
Travel Buddy Dog Seat Cover
This Owleys dog seat cover is a perfect accessory for those who want to travel by car with their pets in the back seat or in the luggage compartment.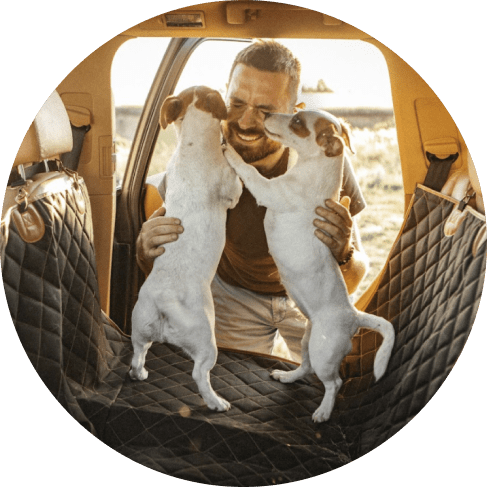 Keeping your car clean when traveling with dogs is easy
Take your four-legged friend with you
Enjoy a clean back seat
Forget about dirt, dog hair, sand and dust in your car after traveling with your pet-friend.
Easy to clean
Quickly remove dirt, dust and liquids with a damp cloth, and get rid of pet hair with a vacuum cleaner.
Damage-proof materials
A six-layer build is waterproof and plastic-thickened sidewalls protect against teeth and claws.
Keep your pet safe
4 headrest attachments, 2 seat anchors, and a non-slip bottom keep the cover in place, while the seat belt holds your pet for his protection and comfort.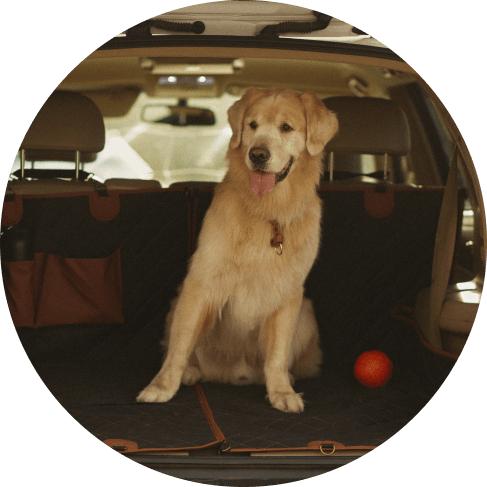 Be a super-parent for your dog
Forget the stress of traveling with your furry friend and make it easy and enjoyable with Owleys - let your Travel Buddy take care of car cleanliness.
Unique multi-purpose fit
The Travel Buddy will fit any car model with seat headrests. Use the cover all over your back seat or luggage compartment, or unzip it in the middle and use only half of it, freeing space for other passengers or pieces of luggage.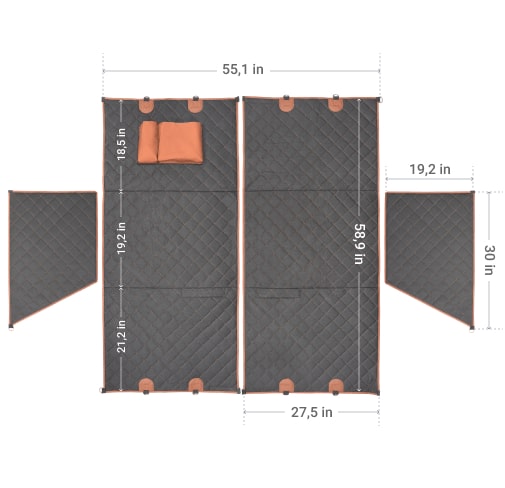 Enjoy smooth road trips with your dog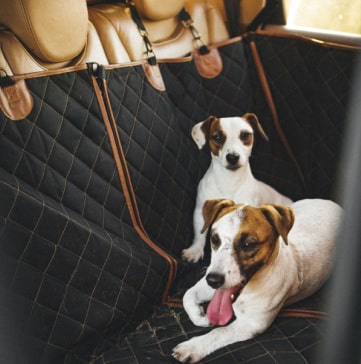 Anti-slip bottom coating
A PVC layer on the bottom of this seat cover holds it securely and prevents slipping - even in leather car interiors.
Strong & durable fastening
The cover attaches to the car seats with metal hooks and durable textile straps. Velcro secures the zippered sidewalls.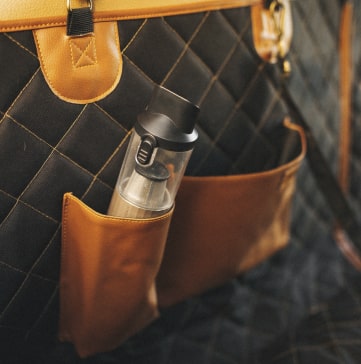 Deep storage pockets
Store favourite toys and care supplies in two pockets for the convenience and comfort of your dog on the road.
Improve your road trips with our premium-quality products

FAQs
The Travel Buddy will fit all car models that have headrests on their seats.
No, this seat cover is not recommended for washing machines. Use a damp cloth, vacuum cleaner, or your hands to gently hand-wash it.
Yes, you can easily fold this cover when not in use. All its parts are conveniently foldable.
Yes, it does. High sides and secure attachments will keep your pet from moving forward while you're driving.
The dog safety belt is included with the cover, so you don't need to buy it separately.
Yes, there are special holes in the folds of the Travel Buddy for attaching the dog safety belt.
About Owleys
Owleys is a premium car accessories brand based in California. We create accessories for any kind of car traveling - road trips, camping, picnics, nature trips, and daily rides. Our main goal is to bring comfort, convenience and emotions to every moment you spend in your car. We ourselves enjoy traveling with our family and friends, so we have two main product lines: traveling with kids and traveling with dogs. With these products, we want help you take care of your loved ones when traveling by car and spend a great time on a road together. Creating our accessories, we care for both kids and adults - as well as both pets and their owners. Therefore we never use genuine leather and choose PU leather instead. For our products, we prefer using low-maintenance, eco-friendly and durable materials that will withstand your trips with the most mobile kids and pets.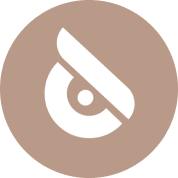 good hammock, but it didn't fit my car

too big for our back seat but the quality is nice

Fast delivery and excellent quality hammock! Thanks

received my order in 4 days. very good fit and great quality. thank you.

this is really a great car hammock to travel with your dog and be calm about your car!

The best dog seat cover I have ever had!very durable, easy to clean and waterproof.

The size is good fit for my 2020 Colorado. Excellent car protection from dirt and dog hair 👏🏽👏🏽

we've been using it for a week now and it's really good! delivery took just 3 days. thanks :))

Perfect fit for Toyota Tacoma rear seats and excellent quality. Received the order within 4 days.

good protection for our cream leather seats from the hair and dirt that our black labrador creates (:

I love this dog hammock, very cute and made from durable materials. The size is great for my extended cab Chevy 06 and for my Labrador Jackie :)

Great car hammock for pets. Easy to set up and split in half with a ziplock in the middle. Cute design and clever that it has pockets. Looks great in the car. My dog loves it.

good quality product and overall looks cute. but the headrest straps were broken. support quickly helped me with the return and refunded the money. thanks for the good service!

We just received our dog seat cover today and installed it in just a couple of minutes! It looks soooo stylish and feels greatly made, so I'm very happy with my choice! Can recommend this!

Obviously not the cheapest dog hammock you can find on the market, but much bigger and better quality than the cheaper ones from Amazon and provides much better back seat protection.

Quickly installed in my Toyota Corolla, 2016. The sewing is neat and there are actually many layers of dense and durable fabric. We have three dogs from 20 to 80 pounds and so far the hammock works great!

This hammock is exactly what I wanted. Perfect size fit for my Jeep Grand Cherokee. In addition to the hard side walls, it protects my new car from pet hair, dirt and scratches. Excellent thing and worth the money.

Approved by both me as the owner and my dog. I have an adult german shepherd. This car hammock perfectly protected my cloth seats from dirty and wet hair after a muddy day at the dog park. No spot or stain left.

The hammock is perfect to protect car upholstery from dog nails,teeth, dirt, hair…and anything else related to a dog in a car... Ordering another one as a gift for my friend. The packaging is very good for a gift. Thank you I love it

Great dog cover for car protection. Neatly and nicely made, really good quality materials. They have included a free dog seat belt to secure the dog through openings to a collar or harness. Very thoughtful of the brand

My favorite thing about this dog hammock is the side panels and safety belt attachment holes. I easily installed it in my Mazda CX-5. Pretty big size, just what you want to protect your whole backseat or trunk compartment

Great quality and full width fits my back seat well. However, the middle seat belt cannot be used when the cover is on the seat. I advise you to check the dimensions in the gallery before ordering so as not to be in the same situation

If you are still not sure if this hammock is worth buying because it's expensive - YES IT IS! Easy to install, clean, it looks cute and stylish! Even if you need to transport a passenger in the back seat, it will still work for you because it has a zipper in the middle! Excellent thing!

I am 100% satisfied with the quality, usability, fast delivery and packaging of this dog hammock. The hair of our boxers is short, but goes inside the fabric and is difficult to remove. This hammock perfectly protects the upholstery from hair and any other damage two boxers might cause.

I LOVE IT! awesome design and fits Tesla Model 3 well. I think this dog protector will basically fit most sedans. especially cool that the installation takes no more than five minutes. if you are traveling with dogs and want to keep your car clean and tidy, this seat cover is what you want!

I still have my old dog hammock from another brand and it turned out to be only half as good as this one. This hammock has hard side flaps, seat belt slots and a safety belt itself to attach to the harness. My dog is with me everywhere, so I don't have to worry if I suddenly stop the car and he doesn't get hit.

Excellent quality pet hammock! Fast delivery in a couple days. Really easy to use, setup and clean. Loved that they included a dog safety belt. This dog cover not only protects my car but also keeps my dogs in place in the back seat. I'm quite impressed with the brand's approach and have a great customer experience. Thank you 👍🏿

Awesome pet car cover! Size fits my GMC Canyon. Straps are fixed on the back and front head restraints. The bottom has a non-slip material, so the hammock does not slip when the dogs move around in the car. It is quite easy to understand the installation, but I would advise adding detailed instructions to the order. Thank you!

I only use half of this pet hammock because there is also a child traveling in the back seat. The hammock has a non-slip bottom, solid sides and we also received a dog harness as a gift. Very good for protecting the back seat of my crossover from hair, scratches and dirt. Multi-layer durable material and well-thought-out design. 👍

My dog is with me wherever I go. Previously I had to struggle quite a time to remove his hair from the back seat upholstery. But with this cover, I can finally relax! My dog has enough space to go from side to side to the windows and watch me and the road. Side flaps are great for protecting the inside of car doors. I will definitely buy this dog cover again and recommend it to all dog owners I know!

I have already tried 3 dog seat covers and each time I thought that this one would finally be perfect ... but it wasn't ... and now I HAVE found this perfect hammock !!!! size fits for my Camry HV....easy to care for and install...two pockets for dog stuff..non-slip and holds up well...walls are high and door sides are thickened with inserts...and it wal also nice of the manufacturer to add a free dog belt!!

Easy to set up, split in half, wash and remove.Holds up well while on the road.It's also great that there are two pockets to keep dog things for the road and a dog safety belt is already included with the seat cover.Perfect fit for the back seat of my Fusion. I doubted whether it was worth it because of the high price but trusted good reviews and did not regret purchasing it. I can recommend this dog hammock.

Got this about a month ago for a hyperactive 4 year old Siberian Husky. And well, this is the best dog hammock I have ever used to protect my car! Easy to clean and unzip in the middle if you need space for a passenger. Protects against liquids, hair and dirt. Also I love that it has side flaps and strongly made walls that keep the dog from damaging car doors or jumping in the front. Great product and definitely worth the price!

Got this pet hammock protector for our adult shepherd dog. Since I have cloth car seats, it really helped to finally get rid of the pet hair on it. Of course, removing hair from the hammock is still not so easy, but it's still better than staining the upholstery! Installation is simple and fast. And it's doubly convenient that you can use this hammock only on one half of the seat, because my mother ofter travel with me. Great product!

Exactly the design and quality I was looking for to protect our family suv from our dogs. They are very energetic, so our back seat looks like chaos every time we travel together. This dog hammock is a great protection! I love that its extra large and has metal hooks not plastic. It doesn't move on the seat while driving! Pretty thick and waterproof even if you pour out a bottle of water (we did this for the test lol). The pockets are also quite handy to store the leashes.

The best dog seat cover you can find. Trust me - I've already used 5 different ones to travel with my very active retriever and I know what I'm talking about. This car hammock doesn't slip and stays in place firmly. Installation is quite simple and the materials look very durable. Definitely multiple fabric layers and smart design. Today my dog had a lot of fun on the beach and got into the car completely wet. I checked the upholstery and it was perfectly dry! High quality product!

I ordered this hammock for traveling with our recently adopted medium sized dog. It was her first long road trip. And I'm so happy I bought this seat cover! Poor baby was very nervous and urinated on the seat. The hammock didn't leak! I washed it with paper towels and cleaning spray and the smell was gone. Besides, the weather was quite hot that day, but the hammock didn't get very hot, although it's almost completely black colored. All in all, I highly recommend this dog protector!

This pet hammock has exceeded all my expectations! My boxer Tony has already ruined three pet hammocks. They either weren't 100% waterproof, didn't protect car doors, or the straps broke quickly. The price of this one was a little high, but I decided to give it a chance and hope for good quality. And not in vain! This dog cover is completely waterproof, has solid side panels and stays securely in place! So Tony is surrounded on all sides, my car is fully protected, and I am extremely happy with the purchase!

We ordered this per hammock for a long road trip with two dogs in the back seat. Both our dogs are very nervous, and one of them is constantly trying to jump into the front seat to sit on my or my husband's lap. But this protective hammock worked A+! It is large enough so that both our dogs can comfortably sit, lie and move around the seat. The walls are high to prevent our fluffy jumper from getting into the front. Our car remained absolutely clean and the trip turned out to be much better than we expected. Definitely recommend ordering this dog hammmock!

The first time my puppy vomited in my car, I decided to protect the back seat with a pet cover. I was looking for the best one for a long time and saw this - waterproof, with good reviews and description. I wasn't sure if it was actually waterproof or just water resistant, but let me tell you it's indeed 100% waterproof!!! Turns out my puppy has car sickness and this cover has already protected my car twice on our road trips. There was no smell or dirt left. I have already recommended this dog hammock to family and friends and will recommend again if given the chance! Thanks!

I finally had a chance to use this dog seat cover in action. I received this last Friday and went on a road trip with my beagle. Closer to home we were driving past a lake and I purposely let my dog splash around in the water. As we got home, I checked the hammock and the entire back seat area. The hammock didn't leak even though my dog was super wet. The seats were clean, and I used a lint roller for clothes to remove hair from it. Excellent! For daily use, I unzipped half and am going to use this seat cover on one side only. So, if you're considering buying this or not, don't hesitate and get one!

Very happy with this dog hammock! Fits our F150 back seats perfectly and the walls keep our dogs from jumping into the front seat. What's especially great is that it comes with a free seat belt to keep your dog safely in place. It is waterproof and completely protects the car from muddy and wet paw marks when our dogs jump back into the car after walking in rainy weather. It also has a non-slip bottom and metal fasteners attach on all sides, so it won't move during use! All in all I would definitely recommend this dog hammock Travel Buddy, the brand and their support team workers who were very attentive and kindly answered all my questions before I made my purchase.